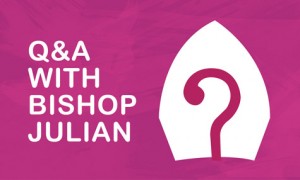 In this extended episode of Q&A, Bishop Julian speaks honestly about the Royal Commission, the Church's response to sexual abuse, and the road ahead.
"[We want] truth, justice and healing. We want the truth to come out… we want to see where we've failed and acknowledge that. We want justice for the victims, we want to ensure that justice is being done to anybody who has committed sexual abuse […] We also want healing: healing for the victims, firstly, but also we hope that this will be a process of healing for society and the Church…"
– Bishop Julian Porteous on what Australian Bishops' hopes are for the Royal Commission into Sexual Abuse
DOWNLOAD (Right click to save)(47 mins)
If you have a question for Bishop Julian, he's just a phone call or an email away: Cradio's number is +612 8005 1530, and our email: [email protected] . And of course you can always contact us on Facebook too.

Subscribe to the podcast on iTunes