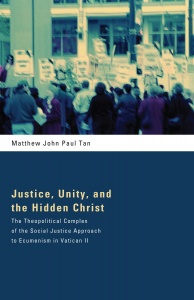 "Cooperation among Christians vividly expresses the relationship which in fact already unites them, and it sets in clearer relief the features of Christ the Servant. This cooperation, which has already begun in many countries, should be developed more and more…" (Unitatis Redintegratio, p. 12)
Vatican II said social justice would be a chance for all Christian denominations to declare a common witness to Christ. But do social justice projects still nurture Christian unity and declare Christ to the postmodern world? This question is explored in Dr Matthew Tan's new book Justice, Unity & the Hidden Christ: The Theopolitical Complex of the Social Justice Approach to Ecumenism in Vatican I. 
In this address Dr Matthew Tan provides an overview of the ideas explored in his new book, with particular reference to the Vatican II Document Unitatis Redintegratio, paragraph 12.
DOWNLOAD (Right click to save) (11 mins)To find out more about Dr Matthew Tan's new book, or to purchase a copy, visit wipfandstock.com.
For more from Dr Matthew Tan visit divinewedgie.blogspot.com.au