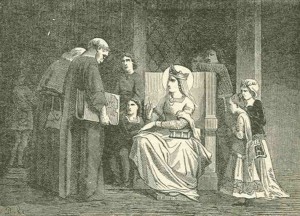 Margaret's biographer Turgot, Bishop of St. Andrews, credits her with having a civilizing influence on her husband Malcolm by reading him stories from the Bible.
She instigated religious reform, striving to make the worship and practices of the Church in Scotland conform to those of Rome.
She was considered an exemplar of the "just ruler", and influenced her husband and children, especially her youngest son, later David I, also to be just and holy rulers.
She attended to charitable works, serving orphans and the poor every day before she ate, and washing the feet of the poor in imitation of Christ. She rose at midnight every night to attend church services.