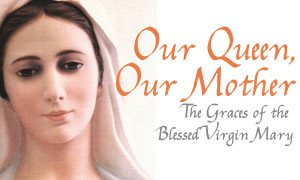 If you ask any to name a saint from the last 100 years, there's a good chance they'll say "St Padre Pio". But who is this "St Padre Pio", and why is he so popular?
In this episode of Our Queen, Our Mother: Paul presents the remarkable life of St Pio of Pietrelcina: his great sufferings, his mystical and miraculous experiences, and his loving devotion to the Blessed Virgin Mary.
LISTEN NOW/DOWNLOAD FOR LATER (32:33)
Paul Elarde is passionate about responding to Blessed John Paul II's call to the New Evangelisation.  He has presented faith talks to young adult groups and parishes around Sydney for the past nine years and led groups on pilgrimage to many Marian Shrines in Europe. Paul has worked for the Sydney Archdiocese as coordinator for the pastoral aspects of the visit of Blessed Pier Giorgio Frassati's incorrupt body for WYD08, and on the leadership team for the Sydney Archdiocesan Youth Leaders Formation Courses.  He has studied theology and is a graduate from The University of Notre Dame in Sydney.

Subscribe to the podcast on iTunes