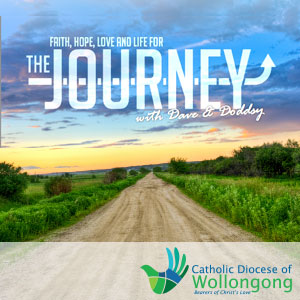 Jude presents this episode of The Journey!
On this week's edition:
• Bishop Peter Ingham provides his Christmas message
• Sr Hilda calls us to not be bound by our past
• Trish McCarthy speaks on the Archangels
• Pete Gilmore asks us: where is our secret place?
• Fr Richard Healey provides the Gospel reflection for this Sunday
• Fr Dave Callaghan explains how to defeat discouragement
• Byron & Francine Pirola give three tips to maintain trust in marriage
LISTEN NOW (28:30 mins)
If you're in the Wollongong area you can support The Journey by tuning in to Pulse 94.1 at 11am on Sundays and 10pm on Wednesdays. This is an initiative of the Catholic Diocese of Wollongong.