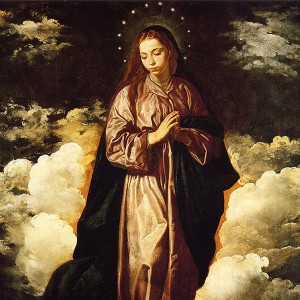 Today we celebrate the Solemnity of the Immaculate Conception of Our Lady. While this doctrine was widely held since the early Church, it was not defined as dogma until the 19th Century when Pope Pius IX declared that "the doctrine which holds that the most Blessed Virgin Mary, in the first instance of her conception, by a singular grace and privilege granted by Almighty God, in view of the merits of Jesus Christ, the Savior of the human race, was preserved free from all stain of original sin, is a doctrine revealed by God and therefore to be believed firmly and constantly by all the faithful."
To mark this great feast we thought we'd share 7 Great talks on Our Lady from the Cradio archives.
Listen via the pages below or download the files to listen later on your smartphone or mp3 player.
O Mary conceived without sin – pray for us who have recourse to thee!
"I don't need Mary, I go straight to Jesus" – sound familiar? Many people, even Catholics, often believe that devotion to Mary is a distraction or obstacle to our relationship with God. In this first episode of Our Queen, Our Mother Paul Elarde explains why true devotion to Mary is the fast-track to Christ. There are also plenty more great episodes, so please do check them out. 
Young Sydney priest Fr Greg Morgan looks the four Marian dogmas of our Church and what they tell us about ourselves as human beings in light of Blessed John Paul II's Theology of the Body.
Dr Robert Tilley takes us through Sacred Scripture to demonstrate the profound pro-life message running through the Bible, revealed beautifully through reflection on the Blessed Virgin Mary.
Fr Richard Umbers reflects on the great 'YES' of Our Lady that opened the door to our salvation and allowed her to become the faithful mother of Christ and His Church.
Lorena Portocarrero for the Fraternas speaks on how women can fully live out their lives in their Christian vocation by taking Mary as their model…
In this homily, Sydney's Bishop Julian Porteous reflects on the great 'YES' of the Blessed Virgin and her contemplative spirit. He stresses the importance of reading Scripture in coming to know and imitate Christ and His mother.
Sr Lydia Marie RSM reflects on the role Mary plays in helping us through suffering, teaching us to forgive, forming us in virtue and helping us on the road to salvation.
Don't forget, you can browse our topics section at any time for resources on Mary or any other topic of interest!