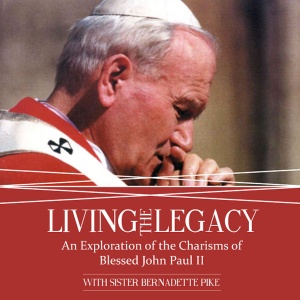 "In the weakness of the sick I saw emerging ever more clearly a new strength: the strength of mercy".
It's not easy to be with someone who is suffering. You might find yourself lost for words, feeling guilty, frustrated or uncomfortable. What can we learn from Blessed John Paul II on how to approach these situations?
In this episode of Living the Legacy, Sister Bernadette explores:
•  How to listen and be present without trying to find a solution
•   Learning to enter into the other person's suffering by reflecting on our own experiences
• Respecting the freedom of the other: not trying to make their decisions for them, but trusting in God and helping the person to exercise their free will.
•  Accepting that you don't have all the answers and that you always have something to learn from the person you're with.
DOWNLOAD (Right click to save) (25 mins)
Please feel free to send questions and feedback to Sister Bernadette via [email protected].
Sister Bernadette Pike MG is founding member of the Missionaries of the Gospel, a new community inspired by Blessed John Paul II. The community was founded under the guidance of Perth's Archbishop Barry Hickey in 2007, incoporating both the John Paul II Sisters and lay members. More information is available at www.mg.org.au.


Subscribe to the podcast on iTunes

Get email notifications when a new episode is published