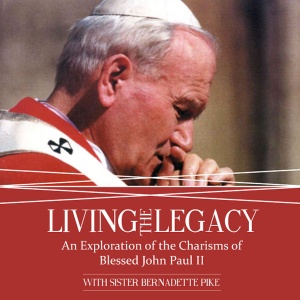 Many of us have been there: trying to explain Church teaching to someone with a different view, only to get a bit emotional and cause them to shut off completely.  How can we help people make the right choices while respecting their freedom? How can we achieve dialogue without compromising the truth?
Blessed John Paul II was called a 'master of creating dialogue'. He had discovered that dialogue was essential in being a true missionary of the Gospel.
In this episode of Living the Legacy, Sister Bernadette explores:
•  The importance of learning to affirm others and recognise commonalities
•  How building unity can help us share our faith more effectively
•  Why all dialogue must lead to evangelisation
•  The critical difference between proposing the truth and imposing it.
DOWNLOAD (Right click to save)(25 mins)
Please feel free to send questions and feedback to Sister Bernadette via [email protected].
Sister Bernadette Pike MG is founding member of the Missionaries of the Gospel, a new community inspired by Blessed John Paul II. The community was founded under the guidance of Perth's Archbishop Barry Hickey in 2007, incoporating both the John Paul II Sisters and lay members. More information is available at www.mg.org.au.


Subscribe to the podcast on iTunes

Get email notifications when a new episode is published