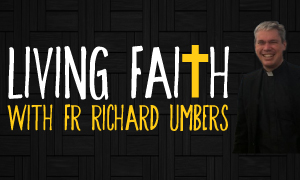 "We should really come to know Jesus personally in our prayer. Not to be content with routine, with a superficial prayer life… we are expected to live to high standards in ordinary life. For that prayer is essential, and prayer is knowing that God loves us." 
In this edition of Living Faith, Fr Richard looks at the obstacles and fears that prevent us from approaching Christ with openness and sincerity. He challenges us to break through these obstacles to find true joy and freedom in intimacy with Christ. 
DOWNLOAD (Right click to save) (30 mins)
Rev Dr Richard Umbers is a priest of the Prelature of Opus Dei. He holds a doctorate in Philosophy from the University of Navarre and is currently lecturing at the University of Notre Dame and serving as Chaplain at Warrane College at the University of New South Wales.
Connect with Fr Richard on Facebook or Twitter.
Don't miss new episodes of Living Faith: 

Subscribe to the podcast on iTunes

Subscribe to Living Faith via email