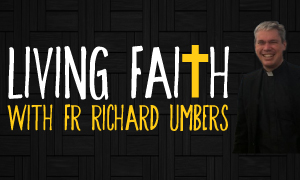 "We can't let the Sydney Morning Herald dictate our formation. We can't swallow hook, line and sinker a naturalism that ignores the supernatural reality of sin, the mystery of evil… and to think we can somehow just live a happy life with material pleasures…"
In the first edition of Living Faith Fr Richard Umbers reflects on the importance of investing time into study and prayer during this Year of Faith. He also looks to the example of St Peter to illustrate how God works through our frailty to make us instruments of His mercy.
DOWNLOAD (Right click to save)
Rev Dr Richard Umbers is a priest of the Prelature of Opus Dei. He holds a doctorate in Philosophy from the University of Navarre and is currently lecturing at the University of Notre Dame and serving as Chaplain at Warrane College at the University of New South Wales.
Connect with Fr Richard on Facebook or Twitter.


Subscribe to the podcast on iTunes

Subscribe to Living Faith via email